May

15
Tags
Related Posts
Share This
Huckabee Advisor: Obama is a Soviet Spy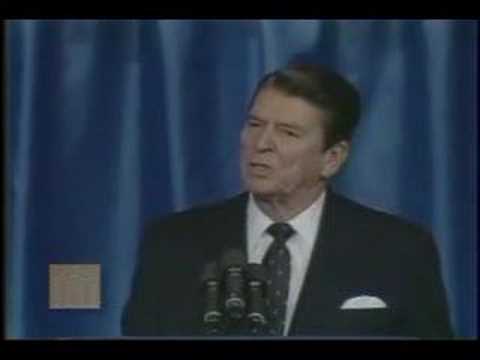 President Ronald Reagan calling the Soviet Union an 'evil empire'
Perhaps Mike Huckabee chose to forgo the 2012 presidential contest because he was scared of facing the Russians.  From Mother Jones:
Mike Huckabee's close ties to far-right activists helped propel him to a second-place finish in the race for the GOP presidential nomination in 2008. But as the former Arkansas governor mulls another White House run, the incendiary remarks and outright paranoia of one of his close advisers serve as a reminder that Huckabee's greatest asset—his relationship with the religious right—may also be one of his greatest vulnerabilities.
Huckabee has joked that he "answers" to "two Janets." One is his wife, Janet Huckabee. The other is Janet Porter, the onetime co-chair of Huckabee's Faith and Values Coalition. And Porter, the former governor has said, is his "prophetic voice." But that voice has said some weird things over the years: Porter has maintained that Obama represents an "inhumane, sick, and sinister evil," and she has warned that Democrats want to throw Christians in jail merely for practicing their faith. She's attributed Haiti's high poverty rate to the fact that the country is "dedicated to Satan," and she suggested that gay marriage caused Noah's Flood. And there's this: In a 2009 column for conservative news site WorldNetDaily, Porter asserted that President Barack Obama is a Soviet secret agent, groomed since birth to destroy the United States from within.
Porter's long history in the Christian right made her a natural ally for Huckabee, a former Baptist preacher, as he laid the foundations for his presidential run in 2007. An acolyte of the late televangelist D. James Kennedy, Porter rose quickly through the ranks of the Christian right, first as director of the Ohio Right to Life chapter in the 1990s. Later, she founded and served as president of Faith2Action, a right-wing group that promotes a theory known as Christian Dominionism—in which Christians are duty-bound to control the instruments of government in advance of the second coming of Christ.
Porter, in turn, seemed enamored with the candidate. In WorldNetDaily, she lavished praise on Huckabee. At one point, she composed a medieval ballad in which Huckabee, referred to as "Sir Mike-A-Lot who we all Like a lot," slayed Hillary Clinton (represented by the "the evil queen and her dragon of slaughter"). Huckabee eventually signed Porter up as co-chair of his Faith and Family Values Coalition, a prestigious group of evangelical who's-who's tasked with reaching out to religious voters.
Porter had strong words for Huckabee's competition, as well. She publicly suggested that former Health and Human Services Secretary Tommy Thompson might be the anti-Christ. In the lead-up to the Iowa caucuses, she cut an ad attacking Huckabee's two most serious rivals, Mitt Romney and John McCain. The ad was paid for by RoeGone, a short-lived 527 formed by a Porter deputy with the stated ambition of becoming the conservative MoveOn.org (it fizzled).
Porter's most dramatic arguments for Huckabee centered on what she believed was the impending prohibition on Christianity—the subject of her 2004 book, The Criminalization of Christianity: Read This Book Before it Becomes Illegal! In her view, the 2008 election represented a make-or-break moment for people of faith. "I'm writing this letter from prison, where I've been since the beginning of 2010," she began one column. "Since Hillary was elected in '08, Christian persecution in America has gotten even worse than we predicted.
Read the rest at Mother Jones